St. Philip Presbyterian Church
Houston, TX
Paul Fritts & Co Organ Builders
In progress
To be delivered January 2010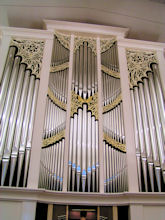 Clip 1 Cutting around an area using a router


Clip 2 Knocking out the excess with a chisel


Clip 3 Cleaning up the surface
Video Series: May 2009

In this video series, I show how to create a deeper level of a carving using a router and chisels.

Carvings of any thickness will have areas at different depths. Traditionally wood was removed from deeper areas using a stop cut knife to cut a line around it and then chiseling out the wood down to the desired level.

Instead of using a stop cut knife, I use a router to cut a line around the area. I then remove the wood with a chisel. You could route the whole area down, but it's quicker (and not so noisy) to use a chisel to remove the bulk of the wood.

I attach a board to the bottom of the router so it stays level and is supported all along the top of the carving. I can do that with this carving because it has enough flat surface for the router to ride on.


Clip 1 shows cutting around the area with the router. Clip 2 shows knocking out the excess wood. Clip 3 shows cleaning up the surface afterwards.